In just a few days, the very first edition of the VIRY-CHÂTILLON TATTOO CONVENTION will take place.
An event of which LA BOUTIQUE DU TATOUEUR is a partner, but where we will also be present as a Supplier. But who better to introduce you to this new RDV Francilien du Tattoo than the organizer himself? Ladies and gentlemen, we present to you Manu, creator of the clothing brand THE CROSS LIFESTYLE , but also organizer of LA VIRY TATTOO CONVENTION, which he agreed to talk to us about during this short interview… – WOLFGANG SLATER
INTERVIEW WITH MANU

// ORGANIZER OF THE VIRY TATTOO CONVENTION

(realized on May 1st, 2023)

1/ Hi Manu and thank you for agreeing to answer this little interview.
Can you first introduce yourself and tell us about your background?
Hello, I introduce myself Manu. I created THE CROSS LIFESTYLE brand 9 years ago.
The idea of the brand being to collaborate with tattoo artists for the realization of the different collections.
After COVID, I wanted to create a tattoo convention, but one that would go off the beaten track and in just a few days the first edition of this event will take place.
2/ This will be the very first edition of this tattoo convention in Viry Chatillon. What was the genesis of this project?
The idea was to finally have a reference in terms of Tattoo Convention in Essonne, while trying to make it unique. Viry being my hometown, it seemed logical to me to organize it here. I wanted to combine in this project all the subjects that were close to my heart, but also representing a maximum of tattoo styles but above all with a good level.
3/ You are also the creator of THE CROSS LIFESTYLE brand, a clothing brand already well established in the tattoo world. Can you tell us a bit more about it?
Absolutely. The brand is also 9 years old recently. I'm really proud of what the brand has become and of all the different collaborations I've been able to do with renowned tattoo artists (Dimitri HK, Frank Baxter, ...)
The brand is associative and tries to fight for the protection of animals and the environment.
I recently handed over the management of the brand to Anaïs, who is taking over the torch with a masterful hand.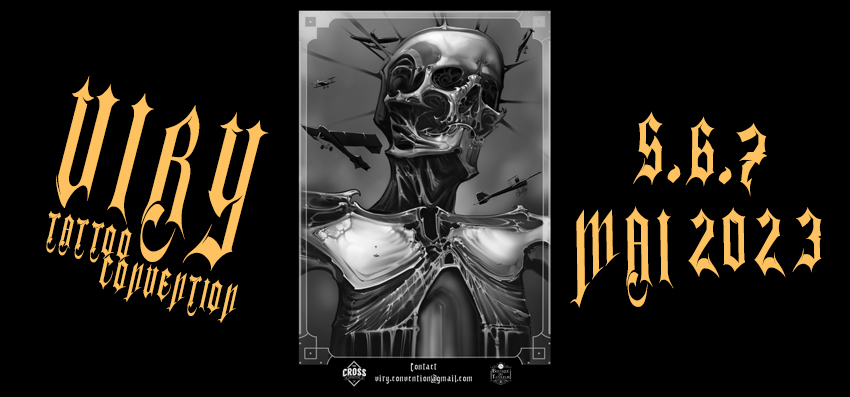 4/ Another arrow to your bow. You are also the manager of THE HIRONN TATTOO, also in Viry Chatillon. I let you introduce us to the shop
My shop is located in VIRY CHÂTILLON! Just like for the convention, the goal is to have tattoo artists with an asserted style but above all a high level of achievement. We have 3 tattoo artists LOKNIR, NANA DE L'ENCRE and HELLOBATO. Each has a well-defined style and you can discover their work via our FB: www.instagram.com/the.hironn.tattoo/
5/ Let's go back to the convention, I see that you have planned round tables with DIMITRI HK, ETERNAL INK and ALEX KRUNK in particular. But can we have your vision and your opinion on the current tattoo world?
I think the world of tattooing is currently undergoing a total transformation. We see a real difference between the old and the new generation with the arrival of younger and younger tattoo artists but with an increasingly high level. Today you quickly have tattoo artists barely 23 years old with quite impressive levels. But I think COVID has also played a big role in the transformation of the profession.
6/ As mentioned above, the convention will offer an introduction to MMA. Something quite original for a tattoo convention. Where did you get this idea from?
At the time, a clothing brand called WICKED ONE was often represented, notably at the MONDIAL DU TATOUAGE. I discovered that MMA was an underground universe often misunderstood, just like tattooing was still some time ago. I then had the chance to meet ALIX JEANGUILLAUME , who unfortunately could not be there for personal reasons, and later the brothers DAMIEN and XAVIER IOSCO . Alix is a tattooed passionate about this universe and even if not yet tattooed, Damien and Xavier too. We thought it would be interesting to join these 2 underground worlds together in order to show the public another vision of these 2 practices.
7/ 2023 will therefore be the year of the first edition of the VIRY TATTOO CONVENTION. Did this event make you want to embark on other related projects?
Only time will tell….
8/ Thank you for answering this short interview. A last word for the end?
Come see us this weekend at the VIRY TATTOO CONVENTION. We put everything in place to present you a tattoo convention that will change traditional conventions. You can see conferences on tattooing, but also on MMA. MMA and urban dance shows but above all full of super talents.